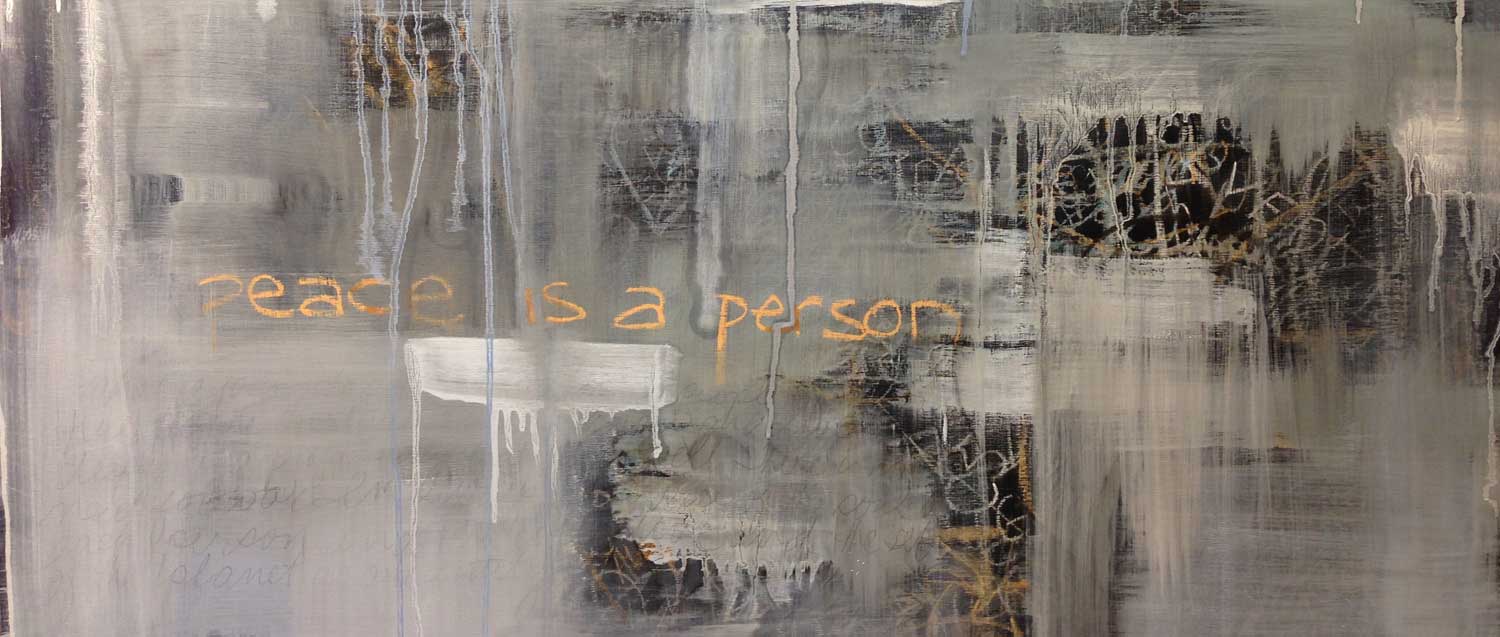 Peace Making We was inspired by a call to enter the show Incite Insight, a lively and thought-provoking national juried exhibition at The Fort Collins Lincoln Center November 21st, 2014 through Jan 3rd, 2015. I was excited about the challenge of answering the question, how would I as an artist, incite insight in viewers? I knew how powerful it was for me to use writing in my artwork to transform myself so I decided to open this process up to the public, allowing viewers to write their responses to the questions "I create peace by..." and "I feel most alive when..." directly on a painting. Over the course of the exhibit, I was excited to see so many responses on the painting. Although a few comments were simple graffiti, most were very thoughtful and expanded my views of what peace-making is and can be.
In January, when I took the painting down from the exhibit and returned it to my studio, I didn't know exactly how I would finish it. I let it sit, leaning against the studio wall for 2 or 3 weeks before I painted. One day, I walked into the studio and just began adding paint without worrying about how it was going to turn out. As I added layers, I stumbled upon a contribution someone had made, "peace is a person." I was stopped in my painting tracks. This statement was so simple and yet so profound. I often think of peace on a global scale to be in the realm of politics, nation-states, long held grudges and histories that are entirely out of my control as well as seemingly intractable. This statement brought peace to the individual level, putting a face on it. I re-wrote the statement, keeping it clear and prominent in the the painting.
The next day I added its opposite, "war is also a person." Both peace and war are easily and quickly made into concepts, but the process of looking at both of these statements made me realize that peace and war are words to describe a multitude of individual actions that create either posivite or negative consequences for humans. I don't intend by this statement to simplify the actions that create war or peace, but at a very basic level, it was clear to me that the mental state and actions of each individual creates our histories of war and peace. Through this insight, I also realized that this project is only at the beginning. Peace is a practice, just as anything else. I am inspired to continue to expand this project and become one among many contributing on a very individual level to the peace and health of our human community. I am brainstorming now as to how I will continue this project. I will keep you posted. Until then, thank you for contributing to Peace Making We, and to my own insights. Below is Peace Making I with its companion painting, the final version of Peace Making We. It represents only the beginning of the exploration of painting, art-making and peace-making.